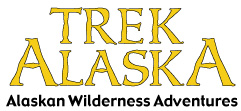 Guided Treks in
Wrangell St. Elias National Park
The treks in this book cover a wide range of difficulty and duration. Many of the multi-day treks covered are suitable for self guided treks by experienced backpackers. But depending on your level of experience, skills and confidence you might want to consider using a guide for your first Alaskan backcountry adventure.
The route desctriptions can provide details about the routes, but when it comes to stream crossings, glacier crossings or difficult terrain, it still comes down to individual judgement and abilities.
Trek Alaska offers guided group trips on many of these routes. And if you have a group of your own then they can guide any route covered in the book... and more.
Click for more information on guided hiking and backpacking treks in Alaska's Wrangell St. Elias National Park.